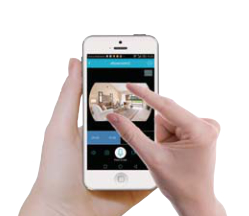 WLAN indoorcam_fisheye 180°
Surveillance camera for indoor applications with automatic, digital 180° panning function.
Through the use of a fisheye lens, stabo's WLAN indoorcam_fisheye 180° provides an increased angle of view (up to 180°) compared with the common lens technology. In combination with the automatic and digital 180° panning function, a larger image area can be monitored than with traditional camera systems. In the dark, the integrated infrared LEDs assure a visibility of up to 10 m. If the movement detection of the camera detects a modification of the camera image, an immediate notification (push notification) can be sent to your smartphone. The Intercom function enables listen-in and intercom functions. Videos and photos can be stored for instance as evidence in judicial proceedings on a microSD card with max. 128GB (not included in the scope of delivery). Thanks to an easy installation (plug & view) and free apps* for iOS and Android devices, you can monitor your home from any place in the world.**
Enjoy the comforting sense of security thanks to stabo's surveillance camera WLAN indoorcam_fisheye 180°.
Further information:
*IOS app (App Store) or Android app (Google Play) for free