Exclusively at stabo
Groupe President Electronics
Est. 1978 | Inventor of the Automatic Squelch Control (ASC)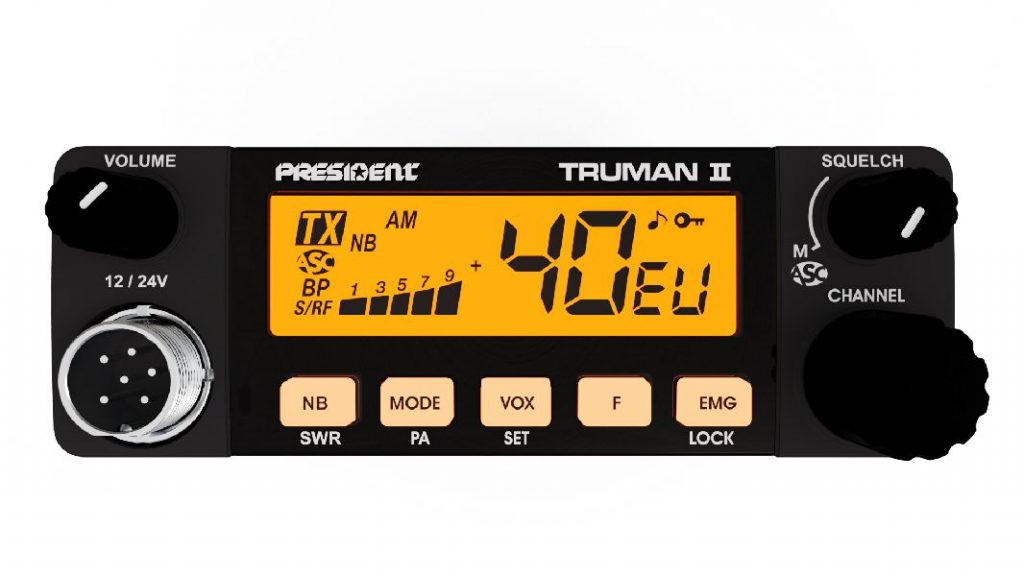 80 FM channels / 40 AM channels
Channel selector, rotary
Volume control with ON/OFF switch
Manual squelch and ASC
Multifunction LCD red/green/blue/cyan/yellow/purple/light cyan
Display of S-value and relative output power
ANL integrated automatic noise limiter, NB switchable
F key for country configuration
Key beep
Roger beep
Paging amplifier
Tone
VOX
Integrated SWR meter
Mode switch AM/FM
Two programmable channel memories
Key lock
Microphone jack (6-pin) at front
Jack for external loudspeaker
80 FM channels / 40 AM channels
Channel selector, rotary
Volume control with ON/OFF switch
Manual squelch and ASC
Multifunction LCD red/green/blue/cyan/yellow/purple/light cyan
Frequency display
Display of S-value and relative output power
ANL/NB/HI-CUT noise limiter/noise blanker/tone filter
AM/FM
Scan function
Paging amplifier
Talk back (modulation control)
VOX
Two programmable channel memories
Key beep
Roger beep
Amplification switchable to Electret or dynamic microphones
F key for country configuration
Integrated SWR meter
Microphone jack (6-pin) at front
Jack for external loudspeaker
USB jack 5 V / 2.1 A
80 FM channels / 40 AM channels
12 V operating voltage
USB jack 5V / 2.1A
Manual squelch and ASC
Multifunction LCD, 7 colors, dimmable
Channel rocker switch
ANL automatic noise limiter, NB and HI-CUT switchable
Volume control with ON/OFF switch
S-meter
Function key
Beep sound
Roger beep
AM/FM switch
Quick channel access programmable
TOT (transmit time limit)
3.5mm jack for external loudspeaker
Front jack for external microphone
VFO mode (from 24,890 MHz to 24,990 MHz and from 28,000
MHz to 29,700 MHz)
Adjustable output power
Manual squelch and ASC
Multifunction LCD, orange/green/blue, dimmable
PA (Public Address) (paging amplifier)
VOX hands-free calling function
ANL automatic noise limiter, NB and HI-CUT switchable
Clarifier
Channel and memory scan
6 memory locations
CTCSS (38 tones)
DCS (104 codes)
Dimmable display lighting (orange/green/blue)
Menu key
Beep sound
Roger beep
Mode switch AM/FM/LSB/USB/CW
Dual watch function
Key lock
Integrated SWR metering function
Quick access to channel 9/19
TOT (transmit time limit)
Jack for external loudspeaker
Jack for external Vox microphone
80 FM channels / 40 AM channels
All European standards (5)
Multifunction LCD
ANL automatic noise limiter
Manual squelch and ASC
Quick access to channel 9/19
Switchable key tones
Jack for external loudspeaker
12 V / 24 V operation
All European standards (5) + India
Scan function
Multifunction LCD display red/green/blue/cyan/yellow/purple/light cyan
Talk back (modulation control)
ANL + NB automatic noise limiter/noise blanker, switchable
Manual squelch and ASC
Switchable and adjustable transmit time limit (TOT)
PA function (paging amplifier)
LED S-meter/HF power display
Roger beep
Key beep
UP/DOWN microphone
Jack for external Vox microphone
Jack for external loudspeaker
12 V / 24 V operation
All European standards (5) + India
Scan function
Multifunction LCD
VOX hands-free calling function
ANL + NB automatic noise limiter/noise blanker, switchable
Manual squelch and ASC
UP/DOWN microphone
Jack for external Vox microphone
Jack for external loudspeaker
ASC Automatic Squelch Control
UP/DOWN microphone
Integrated SWR meter
Backlit front plate
Adjustable transmitting power
Switchable beep sound
6-pin microphone jack
Jack for external VOX microphone (2.5 mm)
Jack for external loudspeaker (3.5 mm)
Rugged MOSFET output stage
12 V / 24 V operation
All European standards (5) + India
40 AM channels
Scan function
Hi-Cut filter
VOX hands-free calling function
Roger beep
LED S-meter/HF power display
ANL + NB automatic noise limiter/noise blanker, switchable
Manual squelch and ASC
LED S-meter/HF power display
RF gain
Jack for external Vox microphone
Jack for external loudspeaker
12 V / 24 V operation
80 FM channels / 40 AM channels
All European standards (5) + India
Digital LED channel display
LED S-meter/HF power display
Quick access to channel 19/9
ANL + NB automatic noise limiter/noise blanker, switchable
Dual watch function
Manual squelch and ASC
UP/DOWN microphone
Jack for external loudspeaker
All functions are remote controlled through the loudspeaker microphone.
80 FM channels / 40 AM channels; 4 W
5 European standards switchable (5) + India
CTCSS (38 tones) and DCS (104 codes)
Roger beep
Switchable beep sound
Multifunction LCD, orange, dimmable
VOX hands-free calling function
ASC Automatic Squelch Control
ANL automatic noise limiter
HIGH-CUT for NF high tone attenuation
NB noise blanker, switchable
Local/DX switch for switching the receiver sensitivity
8 memory channels
Scan on all channels or memory channels only
9/19 quick access
Key lock
Jack for external loudspeaker
Jack for external Vox microphone
Errors and technical modifications reserved, design deviations possible.
President exclusively at stabo
A company of Groupe President Electronics S.A., Balaruc/France and exclusive supplier of President products in Germany.