Economical and environmentally friendly
Battery service life of 10 years
Additional power supply
3-cell Lithium battery (CR123A))
Protection against the unauthorized battery removal
CE (EN 14604)
Timeless design
85 dB alarm signal (3 m)
Test key for function test
Indication of ready-to-operate state
by slowly flashing (approx. every 45 sec.)
Muting key
for briefly switching off the alarm tone in the event of
a false alarm (e.g. due to cooking fumes),
Automatic reset after approx. 5 min.
Weak battery indicator
Warning duration of 30 days at least
Secure locking using the mounting plate
thanks to special lock system
Easy mounting
Art. no.:
51116
Dimensions:
Diameter 100 mm, height approx. 35 mm, 106 g
Battery demand:
3-cell Lithium battery (CR123A)
Scope of supply:
Smoke detectors
3-cell Lithium battery (CR123A)
Mounting material
Suitable for private rooms
For providing a minimum coverage, the escape routes (hallways, staircase) and all bedrooms are to be equipped with smoke detectors, for additional protection install also in living rooms and/or rooms containing electrical devices as well (e.g. TV or computer rooms).
Checked according to EN 14604:2005/AC:2008
Produced under ISO 9001 control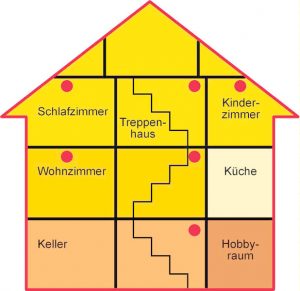 Errors and technical modifications reserved, design deviations possible.